Dr. Hyunjun Kim, D.C. CKTP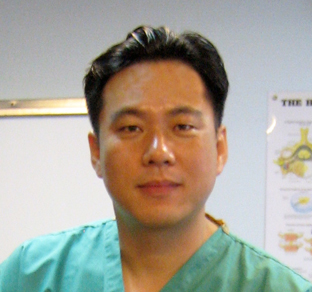 My first exposure to chiropractic was through a close friend of mine who studied chiropractic for his master's degree in the department of physical education at Seoul National University.
His thesis topic was the study on the effect of chiropractic on sitting truck flexion. While working as a senior researcher at Pacific Corporation, I tried to keep up-to-date with the various scientific and health care trends in the new millennium. These could be summarized into three categories: computer sciences, alternative medical fields, and new material developments related to biotechnologies.

In my studies I became especially interested in chiropractic in the alternative medical fields for the following reasons. The more I researched about chiropractic natural therapies and its philosophy the more excited I became at the possibility of becoming a chiropractor because of its unique natural way of looking at wellness. In my work as a chemist I have been involved in the development of new drugs with the goal of helping the public.

I began to feel skeptical about the development of new biologically active materials since I have seen so many side effects resulted from drug abuse.
This experience has convinced me that a natural therapy such as chiropractic is often times more desirable than the use of drugs. These were the decisive factors for me to want to be a doctor of chiropractic.
-----------------------------------------------------------------------------------------------------------------------------------
Mi primera introduccion al tratamiento quiropractico fue por medio de un amigo cercano quien estudio medicina quiropractica para su licenciatura superior en el departamento de educacion fisica en la Universidad Nacional de Seoul.
El tema de su tesis fue el estudio sobre el efecto de la quiropractica en la flexion debido al sentarse en un camion.
Mientras trabajaba como investigador senior con Pacific Corporation, trate de mantenerme al dia con varias modas de el campo de medicina en el nuevo milenio. Estos pueden ser resumidos en tres categorias: ciencia de computacion, campos de medicina alternativos, y nuevos materiales relacionados con la biotecnologia.
En mis estudios, me interese mucho en el tratamiento quiropractico por varias razones. Lo mas que investigaba sobre las terapias naturales quiropracticas y su filosfia, lo mas emocionado que me ponia por la posibilidad de ser un quiropractico porque es tiene una manera natural de tratar el bienestar de la persona.
En mi trabajo como quimico yo estuve envuelto en el desarrollo de nuevas drogas con la meta de ayudar al publico.Yo empeze a sentirme esceptico sobre el desarrollo de nuevas materiales biologicamente activos despues de haber visto tantos efectos secundarios debido al abuso de drogas. Esta experiencia me ha convencido de que la terapia natural como la quiropractica es mas deseable que el uso de drogas. Estos eran los factores decisivos por los cuales yo escoji ser doctor de quiropractica.

Chiropractor Bellevue & Lynnwood Chiropractic Clinic Back and Neck Pain , Car Accident Pain and Massage, L&I, Pain Therapy, Medicare, Chiropractic Adjustment - Total Care Clinic